I haven't posted anything on my blog since February, so it's time for a status update. Here you go.
First things first, I should introduce you to my lovely gf Kelsey: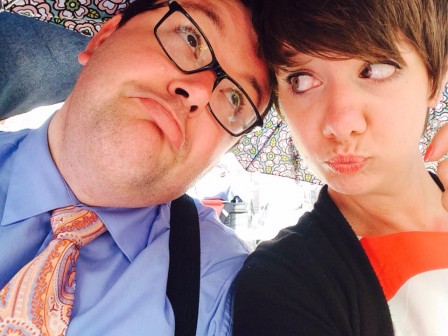 She really is the best. She thinks like me, but doesn't act like me, which is great.
I've also been really busy working at the Spokesman-Review, improving our website and working on various internal tools. We're iteratively working on the overall site redesign, taking one section at a time and replacing the templates with our new responsive templates. You can see the difference if you visit spokesman.com/outdoors/ and compare it to the main site homepage at spokesman.com. We feel it's a big improvement, but there are a lot of moving parts to figure out and re-arrange before we can replace the core homepage and stories templates for the rest of the site.
Right now I'm busy planning our next SpoCode event, which will be rad. Here's the hand-crafted logo I made:

Finally, I just stepped down last week from my position at Rebooked, the company I co-founded back in April of 2014. The idea came out of Startup Weekend and was just so compelling that we decided to push forward with it and build it into something great. The local business community has been nothing but supportive of the project, and although I'm no longer on the team, I wish them the best.