Ever buy a bottle of wine just because of the label? Of course you have. I do it all the time. I happen to especially like wine bottles because they are one of the last bastions of great classical design, in my opinion. They typically use "old style" typography, as compared to Tchischold's New Typography, very elegant and classy typefaces, and sometimes very visually stunning artwork.
I'm actually considering purchasing either a t-shirt or a canvas print of the artwork on a bottle of 2005 Shiraz from Juno Wines. Their Cape Maidens wines are excellent, and all of the artwork is done in-house by Tertia du Toit. Beautiful!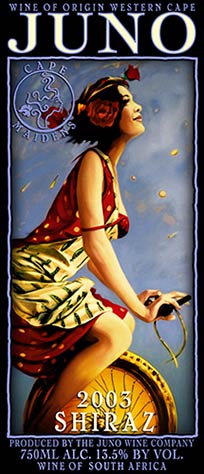 And I never would have bought it had I not loved the picture.